ASRY hits 33-day Scrubber Retrofit Record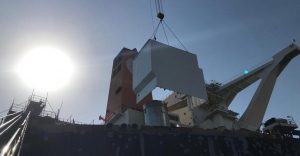 ASRY has managed to complete a retrofit of a SOx Scrubber Retrofit system on a VLCC within 33 days of arrival of the vessel to the yard. Scrubber retrofits projects are currently dominating maritime repair schedules due to recently implemented IMO regulations forcing vessel owners to reduce airborne emission levels. ASRY has completed eight such projects by the end of 2019, with many more on the order books in 2020. This new record of 33 days is one of the fastest turnarounds of the project in the region and it also involved a simultaneous BWTS retrofit on the same vessel.

"Being able to provide customers with these region-leading project delivery times is exactly the kind of performance indicator we are committed to achieving." confirmed ASRY Managing Director, Mazen Matar. "We were able to reduce the duration of the project due to a combination of committing to a 'lessons learned' process from similar projects, multi-departmental collaboration, and full open communication lines with customers, makers and all other stakeholders before, during and after the project, ensuring correct preparation."

This particular project was the final one in a series of installations undertaken for the Greek-owned Springfield Shipping tanker company between May and December 2019. While Springfield had carried out the classification design, through its design consultants, it relied on ASRY's Engineering team on completing all balance engineering.  Accordingly Hull models, 3D scans, Scrubber model and its associate piping model, were shared with ASRY, which received large Gigabytes of data efficiently into their modern IT systems. ASRY, which uses CADMATIC for 3D modelling, used the software for importing all 3D models and further engineering. One of the highlights by which ASRY could achieve a short retrofit period, was by doing a very detailed engineering well before the vessel arrived.

The lessons learned from the 2019 retrofit projects have now been integrated into ASRY's procedures to ensure similar efficiency for projects in 2020.