ASRY Modernising with New Investments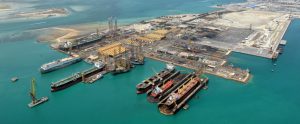 ASRY has begun its modernisation programme with a significant investment package that is bringing new assets to the yard and improving facilities for customers. The package currently includes seven new investments, some of which have already been implemented, such as the procurement of 100 state-of-the art welding machines and a new fleet of cherry pickers. Others are now under implementation, such as new LED dock lights, GPS equipment tracking system, new machine shop upgrades, and a digital quality control application.

"The modernisation of ASRY is our primary mission," confirmed ASRY Managing Director, Mazen Matar. "To ensure optimal customer satisfaction, ASRY must be able to provide the tools, equipment and facilities that will deliver our projects with the highest standards of safety, quality and schedule. This initial investment package has been fast-tracked to ensure customers begin to feel the improvements in their projects immediately."

The investment package includes 100 units of Lincoln FLEXTEC 650X welding machines, which feature Crosslinc Technology providing control at the ARC leading to greater flexibility, productivity and quality. These are already in the yard, with full training underway. Once included in production, ASRY will be the largest user of these state-of-the-art machines in the region.

The yard's current fleet of cherry pickers has also been boosted by the arrival of eight new JLG units, for enhanced access capability providing safe flexible access at heights of up to 42m. With this particular resource at a premium in the yard, this expansion will boost productivity across all projects.

Night operations will see an improvement in productivity and safety with the supply of 400 new specialised portable dock lights, and 1060 confined space lighting units, including explosion proof lights for hazardous environments. This new LED-based technology ensures yard illumination stays region-leading for the foreseeable future.

Yard-wide efficiency has also been targeted in the investment package with a cutting-edge GPS Equipment Tracking system on all equipment and vehicles to optimise asset utilization, reduce maintenance and fuel costs. In addition, the selection and installation of a new capacitor bank is underway, to manage excess energy and reduce energy costs within the whole yard, maximizing efficiency and prioritizing environmental sustainability.

The machine shop will benefit from equipment upgrades in the form of new lathes from the USA. The new units incorporate the latest technology, with improved accuracy, quality and productivity.

Following this investment package, a further phase of investment are already under development which include modernizing ASRY Waste management systems, the company's Enterprise Resource Planning software, and other projects to be announced soon.