Lagersmit's creative solution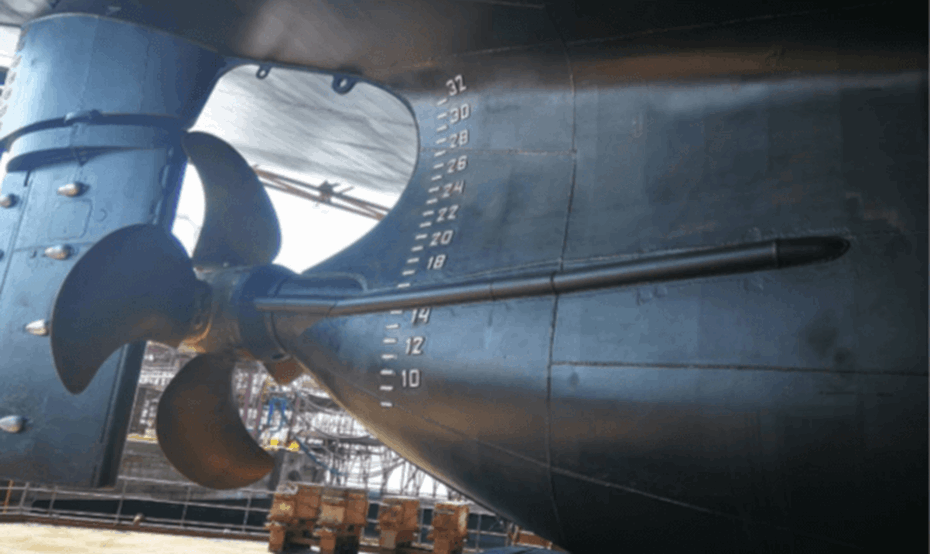 Technical solutions for propulsion systems are constantly developing. Every dry dock offers chances to maintain, upgrade and retrofit the essential parts on your vessel. The advantages of our Supreme Ventus® air-type system were clear for Vertom Bereederung, but the installation was challenging. An extraordinary project can sometimes be solved with a creative and fairly simple solution. Read along to discover how the m/v Patron was retrofitted to a Supreme Ventus® air-type seal with piping outside the stern tube.
ULTIMATE CHALLENGE
Nowadays, international shipping companies can't avoid the VGP/VIDA regulations. Each and every vessel has to be in compliance and this also includes the m/v Patron of Vertom Bereederung. Vertom wanted to avoid the use of expensive bio-oils and can keep sailing with mineral oils. That's why they chose Lagersmit's reliable Supreme Ventus® air-type system. It guarantees zero emissions of oil and 24/7 condition monitoring.
The shaft wasn't pulled and we noticed that the necessary piping work for the Supreme Ventus wasn't available. We collaborated with the team of Vertom and came up with a smart and creative solution: to install the piping outside the stern tube.
PREPARATION
Based on our experience with previous installations, we determined the necessary parts and came to technical drawings for the outside piping. The correct estimation of pipes versus the center line of the shaft was the most important. The following technical drawings contributed to the plan of approach:
Connection view of the inside with outside and pipe cover
Transfer from the end plate to the seal box side
Outside double flange connection
Inside double flange connection and fixing points/angles
The whole project was executed under class approval and designed for service friendly maintenance.
GETTING THE JOB DONE
To ensure the successful completion of a retrofit job, it is extremely important to team-up with the specialists of the shipyard. A combined team of engineers took the following (mayor) steps:
Cutting holes in the hull from inside
The positioning of the inside and outside double flanges
Connection of doublers inside of the vessel
Arranging end pipe cover to position
Fixing pipes on the hull
Covering and protecting hoses from welding splashes
Connect the piping work to the aft seal box
Modifying the rope guard
Inside connection of Air Control Unit and low-level switch tank
Image: Piping work outside the stern tube
BENEFITS OF THIS RETROFIT
No shaft withdrawal needed for Supreme Ventus upgrade
VGP compliance (with the use of mineral oils)
Optimised Total Cost of Ownership
5 years warranty on the sealing system
The self-regulating air control unit (ACU) with 24/7 Condition Monitoring makes the ship more sustainable and VGP/VIDA compliant.
Contact us if you wish to receive more information.